Hello again all. A bit of deja vus today as my other Red Hot Rookie redemption arrived from TriStar Fufillment. This is #4 Mike Stanton of the Marlins. Another great looking card that I can't photograph well. All the good stuff I said about yesterdays RHR applies here as well.
Like the #7 RHR, this one took just over 6 months to get here. I redeemed on June 11 and got it today December 14. At least Topps is consistent.
Next on the Agenda is a Jumbo RePack from The Fairfield Company. I have seen these popping up in a few different stores so I grabbed this one while I was in Rite Aid picking up some things for the house.
The wrapper states that 1 in every 4 have game used cards and every pack has at least 10 Hall of Famers. I'm a sucker for a shot at game used and I figure if I can get 15-20 keepers out of the pack it's worth the 5 bucks to take a shot.
I ended up with 32 (one not pictured) of the 100 as keepers. Well at least until I see which ones I have already.
Some pretty darn good players in that batch. They promised Hall of Famers so here they are.
It looked like a Mets hot pack too as I got 12 of them. As I was going through the pack this card showed up...........
.
.
.
.
.
.
 Low and behold a Graig Nettles 85 Donruss signed. Can this be? There is no COA and the word auto is not mentioned anywhere on the pack. It's not card company certified, more like a TTM. I tried to find some info online about the company and product but no luck. I compared the signature to some others....

Similar....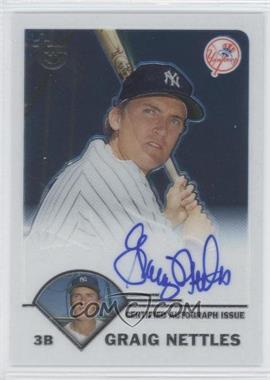 Similar.....
similar.....
I looked at a bunch of others and I think it holds up as far as similarity to the certified autos. I wouldn't think a company selling product in several different national chain stores would risk putting phony stuff in their product. I am going to say real, what do you think? I also want to spin this pack into a little contest. All you have to do is guess how many of the 32 keepers I actually need and don't have already. At the end of the post I will give the rules and a couple of small hints (and I mean small).
Speaking of contests,
Sharpe Since 92
is having another code contest over at his place. I have no clue as to how to solve it so I am plugging it in hopes that nobody can and I can get in the random for a prize so tell him I sent you when you can't figure it out either. Ha Ha.
Here's another little bit of trivia for you:
Common entertainment included playing cards. However, there was a tax levied when purchasing playing cards but only applicable to the 'Ace of Spades.' To avoid paying the tax, people would purchase 51 cards instead. Yet, since most games require 52 cards, these people were thought to be stupid or dumb because they weren't 'playing with a full deck.'
I like that one.
On to the contest rules. It's very simple, just leave a comment with a guess of how many of the 32 "keeper" cards I actually need. Only one guess per person and a number can only be picked once so read all the comments before you guess so you don't duplicate an answer as only the first one will count. A couple of small hints. The Nettles is obviously a keeper since it's an auto. The two non Mets in the second picture (far right) are also keepers for the American flag card collection and the one card I mentioned as not pictured is a keeper (Ken Griffey Sr.) . There is 4 guaranteed keepers. One more hint, I got 2 Fernando Valenzuela 87 Topps (first picture) so if I do need that one, I will only be keeping one of the two.
You ask what the prize is?? I will give the winner all the cards I don't need plus the other 68 cards I don't want. I will also throw in some other stuff that more suits the winner's collecting preferences. Now have at it and spread the word.
That will wrap up today's activities here on The Buffet.
Thanks for Reading!